Hire A Mariachi Band From Mariachi Plaza De Los Angeles
Mariachi-Plaza.com

RESTAURANTES CON MARIACHIS

MARIACHI TALENT ASSOC.

Guest Groups

1836 E. First St.

Boyle Heights, Los Angeles
(323) 262-5243 / (323) 262-9425
---
How To Hire Mariachi
(We serve all of California only)
Looking for a Mariachi or Trio group? Mariachi-Plaza.com is the great way to hire Mariachi bands. You can search the group

Directory yourself or sign the guest book to make your Mariachi request. You may also call us for helpful assistance... It's All Free!
---
Another option in

hiring

a Mariachi group is to visit the famous Mariachi Plaza and speak to some of the band representatives. Most days, the plaza is filled with musicians looking for work. As motorists drive by, representatives from each group will offer their business card in hopes of getting your gig.

The Mariachi bands have Affordable rates and most have references. Groups can vary from 3 (trio) to 12 members.

Many of the musicians live in the Mariachi Hotel across from the plaza, or in the Boyle Heights community. The responsibility these Mariachis carry comes from generations of families embracing tradition, culture, history, and a proud sense of having something truly wonderful...Mariachi !
Make Your Next Anniversary, Party or Wedding a Grand Fiesta.
Hire History and Tradition Here

For that extra touch add live music to your special occasion.

Hire Mariachi from Mariachi Plaza de Los Angeles.

.

M

ariachi musicians are available for hire 7 days a week in Mariachi Plaza. (corner of 1st St. & Boyle Av. in Los Angeles, Ca.) These mariachi groups have dedicated themselves in keeping the beauty and tradition of Mariachi music thriving today.
Mariachi Plaza in Boyle Heights, L.A. has come a long way since it's humble beginning in the 50's. From the small doughnut shop which served as an informal gathering place for musicians, to the kiosk donated by Jalisco in 1998
and the new Mariachi Plaza Station in 2009. Mariachi Plaza is now easily accessible by train to all of So Cal and
on-line with the rest of the world. The plaza even has it's own web site (Mariachi-Plaza.com).
The Los Angeles Mariachi Plaza in Boyle Heights is the hotbed of mariachis in Los Angeles.
.....the very cradle of Mariachi music [in Los Angeles],"
Al Nodal, director of the LA Cultural Affairs Department
..... largest group of mariachis outside of Mexico live in Southern California and that dozens of them live near Boyle and First. ''It's a little cultural heaven,'' she said.
Ms. Rodriguez, Director of Mariachi USA
Los Angeles, Boyle Heights Mariachi Plaza De Los Angeles
La Plaza del Mariachi, 1st St and Boyle. East Los Angeles, Ca.
Audition Room #1 #2 #3
Powered by: MTA
---
Copyright 2013
Mariachi-Plaza.com
Mariachi
Plaza
Request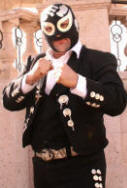 Call me, I got your back. I'll help you get a group.
Mario
(626) 617-4503
Help
Locating A Group
(Click Here)